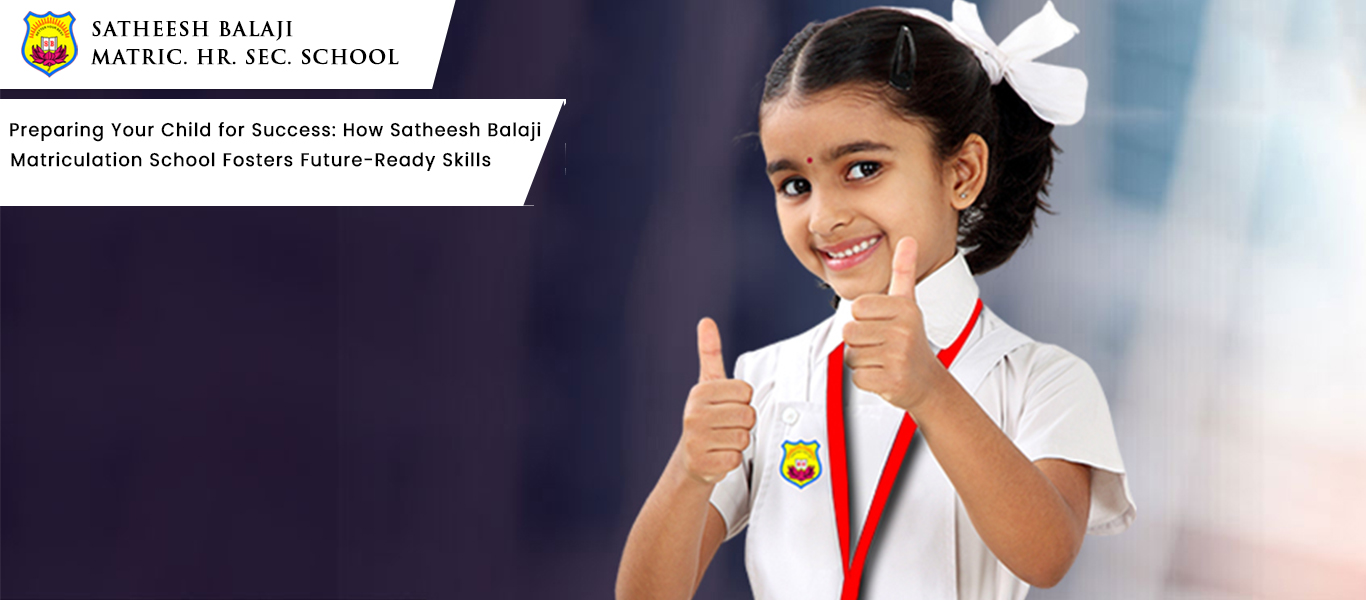 19-May-2023
Published By : SBMHSS
Preparing Your Child for Success: How Satheesh Balaji Matriculation School Fosters Future-Ready Skills
In today's rapidly changing world, preparing our children for success goes beyond traditional education. Satheesh Balaji Matriculation School recognizes the need to foster future-ready skills that will empower students to thrive in the face of evolving challenges.
By providing a holistic learning experience, this leading institution equips students with the necessary tools to navigate the complexities of the modern world.
Understanding Future-Ready Skills
Future-ready skills encompass a range of abilities that are essential for success in the 21st century. At Satheesh Balaji Matriculation School, students develop critical thinking, communication, collaboration, creativity, and adaptability.
These skills are carefully integrated into the curriculum to ensure students are well-prepared for the ever-changing job market and global challenges.
Curriculum and Teaching Methodologies
Satheesh Balaji Matriculation School employs innovative teaching methodologies to foster future-ready skills. The curriculum is designed to promote experiential and inquiry-based learning, allowing students to actively engage with their education.
By leveraging technology, the school enhances learning experiences and equips students with digital literacy skills crucial in today's digital age. Cross-disciplinary projects and real-world applications further enhance students' problem-solving abilities and encourage a holistic understanding of concepts.
Developing Critical Thinking and Problem-Solving Abilities
Critical thinking and problem-solving are vital skills for success. Satheesh Balaji Matriculation School nurtures these skills through a variety of approaches.
Students are exposed to challenging scenarios that require them to analyse, evaluate, and devise effective solutions. Through problem-solving activities and projects, students develop analytical thinking and learn to apply their knowledge to real-life situations.
Communication and Collaboration Skills
Effective communication and collaboration are essential in today's interconnected world. Satheesh Balaji Matriculation School places a strong emphasis on fostering these skills.
Students are provided with opportunities to engage in public speaking, presentations, and collaborative learning environments. Group projects encourage teamwork, active participation, and the ability to effectively communicate ideas.
Nurturing Creativity and Innovation
Creativity and innovation drive progress. Satheesh Balaji Matriculation School recognizes the importance of these qualities and provides platforms for students to explore their creative potential. Through arts, music, and other creative activities, students are encouraged to think outside the box, express themselves, and develop original ideas. Independent thinking is nurtured, enabling students to become innovators and problem solvers.
Adaptability and Resilience
In a rapidly changing world, adaptability and resilience are crucial skills. Satheesh Balaji Matriculation School prepares students for the challenges they may face by cultivating adaptability and resilience.
Through various learning experiences, students learn to embrace change, overcome obstacles, and develop a growth mindset. The school provides support systems and guidance to help students navigate difficulties and emerge stronger.
Co-curricular Activities and Enrichment Programs
Satheesh Balaji Matriculation School offers a diverse range of co-curricular activities and enrichment programs that complement the academic curriculum.
Students can participate in sports, clubs, competitions, and cultural events, gaining valuable experiences beyond the classroom. These activities foster teamwork, leadership skills, creativity, and a sense of community, further enhancing students' future-ready skills.
Success Stories and Alumni Achievements
The impact of Satheesh Balaji Matriculation School can be seen through the achievements of its alumni. Many former students have excelled in their chosen fields, attributing their success to the school's focus on future-ready skills.
Alumni have gone on to become accomplished professionals, entrepreneurs, and leaders. Their experiences at Satheesh Balaji Matriculation School have shaped their abilities and provided a strong foundation for their accomplishments.
Conclusion
Satheesh Balaji Matriculation School is dedicated to preparing students for success in a rapidly changing world. By fostering future-ready skills through its innovative curriculum, teaching methodologies, and co-curricular activities, the school equips students with the tools they need to thrive.
Consider joining Satheesh Balaji Matriculation School to provide your child with a holistic education that prepares them for a successful future.
Academic Year Admission Open 2023-24! Contact us today at 988 444 7282 / 988 443 7282 to secure your child's place at Satheesh Balaji Matriculation School and give them the foundation they need for future success.